A warehousing company was in need of a modular room to hold training and retraining classes for their staff. Due to their rugged warehouse environment, KABTech gave particular attention to ensuring the office was customized to meet the sound, safety, durability and comfort needs of the customer. We combined four types of material to achieve this.
To give a durable skin to the modular office, KABTech used painted steel wall panels. This is also a useful material for reflecting sound. Behind the steel, we used a layer of ½" gypsum to increase noise blocking capabilities. The third layer was our standard core of polystyrene for insulation to make the HVAC more efficient. Finally, we covered the interior panels with vinyl covered hardboard. This is a durable material that makes it simple for hanging pictures, signage, screens, and dry erase boards.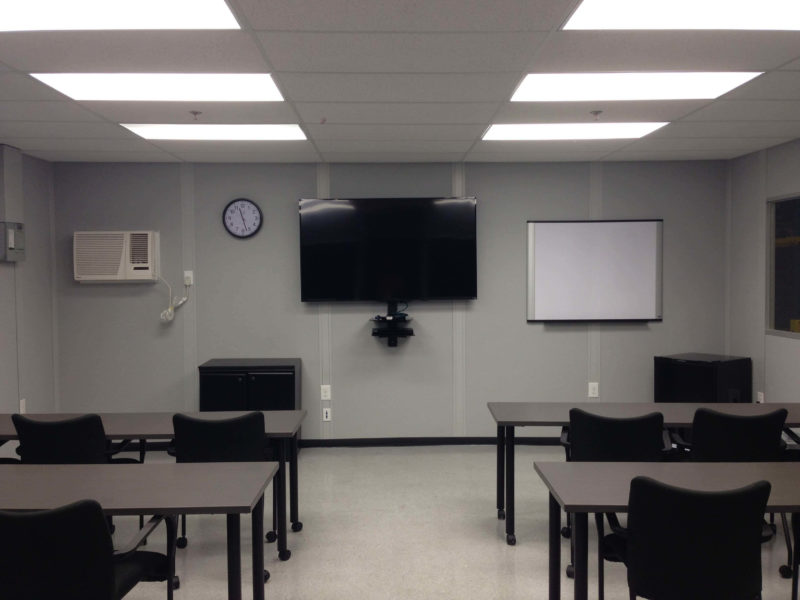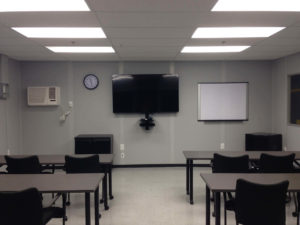 Because this modular room was designed to be used for many purposes, the office was complete with 16ea duplex outlets and 8ea data ports to help facilitate the room's various functions.  An 18,000btu heating and cooling HVAC unit were included. Due to the insurance requirements of the customer, KABTech provided them with a sprinkler system. We installed Armstrong VCT flooring over the existing concrete floor.
To further protect the modular room, we mounted forklift safety barrier rail around the perimeter. On the forklift traffic side, KABTech installed the barrier rail 3' off the wall to create a pathway for worker's protection. Our forklift safety barrier rails are 42" tall and rated to withstand 10,000 Lift at 5mph.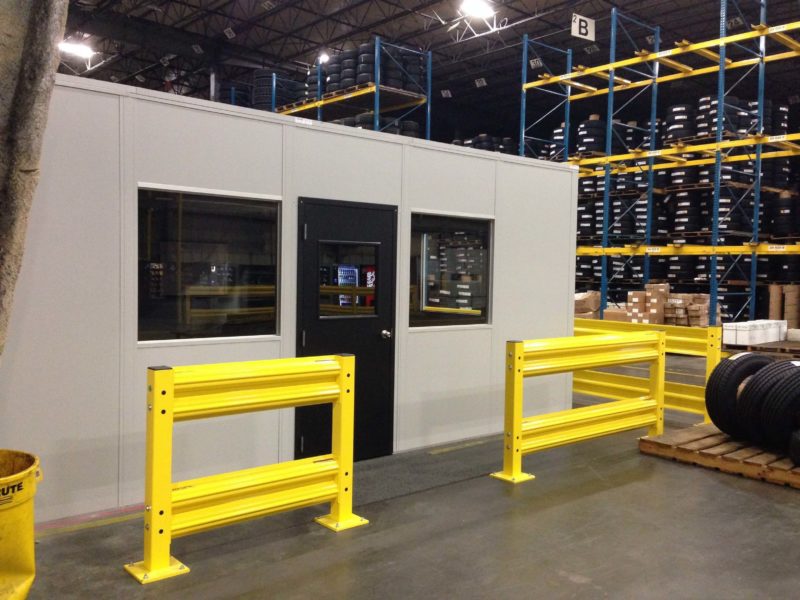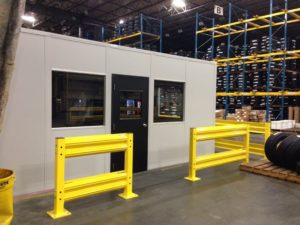 By creatively utilizing each of these materials and features, KABTech was able to give this customer a comfortable, safe, and durable modular room. The client has started using their new training room and is enjoying it so much that they are considering adding another!