KABTech is your single-source provider of walk-in coolers and freezers. We design, engineer, and install cold rooms to meet your unique specifications, ensuring an efficient, cost-effective solution that fits your needs.
Customized Cold Room Solutions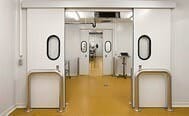 Our commercial walk-in coolers and freezers accommodate a variety of industries and applications, from convenience stores to chemical manufacturing to medical storage. We have extensive experience creating custom walk-in coolers and freezers focused on reliability, functionality, and value. Our cold rooms are easy to install and are versatile enough to be reconfigured, expanded, or relocated as your needs change.
6″ Thick Laminated Expanded Polystyrene Panels (R-27)
4″ Thick Extruded Polystyrene Panels (R-28)
3 1/2″ Thick Foamed in Place Urethane Panels (R-25)
4″ Thick Laminated Extruded Polystyrene (R-32)
4″ Thick Laminated Urethane (R-32)
5 1/2″ Thick Foamed in Place Urethane (R-39)
Spring Loaded Hinges
Door Close Assist
Strip Curtains
Windows
Sliding Doors
Exterior Rated
Large Warehouse Designs
For more information on commercial walk-in cooler and freezer systems, or to Request a Quote, please contact KABTech today. Our goal is to provide the best in quality, value, and service for our clients. Learn how to increase your storage capacity with steel mezzanines.