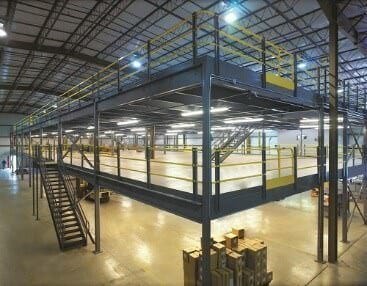 When manufacturing facilities and warehouses expand their operations, there is a constant need for more space. Also, when all available space appears to be utilized, warehouses might consider expanding to another building or facility, which can be a highly expensive and time-consuming process. That is why the amount of available square footage is a premium resource for those in the manufacturing and warehousing industries. The most cost effective and efficient way to gain additional space is to build a warehouse mezzanine system, which will instantly increase the useable floor space of your facility without having to invest in an expensive building expansion.  
Most facilities have an overhead clear space of 20' or more which usually leaves around 10 feet of clear space over existing operations which aren't being utilized efficiently. Structural mezzanines allow manufacturing plants and warehouses to take advantage of this unused space by either providing additional storage or creating room for office/production facilities. In production facilities, structural mezzanines can be used to add a second layer of production space which can hold equipment or a conveyor line. Mezzanine offices can be used to create a break room or plant supervisor office which overlooks the main area of operations.
Additionally, a storage mezzanine is a great way to regain your valuable floor space by helping to store and organize necessary materials, tools, and supplies. Storage mezzanines can be designed with various features which include:
Vertical Material Lifts: These are elevators that raise and lower the product to and from the storage mezzanine.
Fork-Lift Gates: Forklift gates allow a forklift to place and remove a pallet from the storage mezzanine.
Conveyors: Conveyors can bring materials up to the storage mezzanine and can use gravity to send products back down.
Stairways: If the mezzanine is being used to store small parts, it may be easiest to transport them by using a stairway.
Storage mezzanines can also be designed to handle pallet jacks by using composite flooring or plate steel.
No matter what the application, mezzanine systems are the most cost-effective option for increasing the space of your growing business. To learn more about the benefits and uses of mezzanine systems, feel free to contact us today.