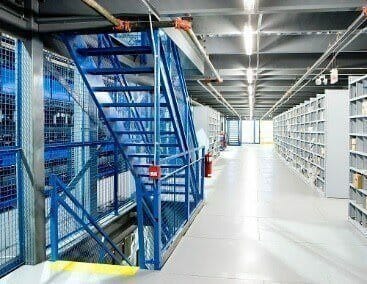 If you are looking to maximize the available space of your warehouse or work facility with a mezzanine, it is important to learn the differences between the various types of mezzanines that are produced.  The three categories detailed in this article are modular, structural, and pre-fabricated mezzanines. Modular mezzanine manufacturers use c-channel for the general structure of the mezzanine due to the significant amount of structural support it provides.  This style of mezzanine design requires more horizontal members to achieve the standard load rating of 125 pounds per square foot (PSF).  Modular mezzanines usually have more columns as C-Channel is limited on the distance it can span.
Alternatively, structural mezzanines often include bar joists for the main horizontal floor support.  Bar joists require less steel and can achieve a greater load rating than c-channel. Additionally, mezzanines with c-channel must be supported with more columns, which reduces the amount of clear space underneath the mezzanine.  When bar joist are used the spans can be greater, which allows for less or no interior columns to be used, thus maximizing the available floor space. However, something to keep in mind is that modular mezzanines and structural mezzanines can technically be the same thing; a modular mezzanine is considered structural if it meets the desired load rating of the customer, and a structural mezzanine can be regarded as modular if uses bolt connects instead of welded connections.
KABTech mezzanines are all pre-fabricated which means that we design, paint, and fabricate the components in our facility before they are shipped to the customer for installation. Pre-fabricated mezzanines come with bolts, screws, anchors and a full set of mezzanine drawings and directions needed for a quick and easy assembly.  Because all of the design work is done in-house, pre-fabricated mezzanines also reduce the costs associated with hiring architects and engineers.  If needed any of our mezzanines can receive a state specific engineers stamp.
Here at KABTech, we have extensive experience in mezzanine design and construction, and we look forward to the opportunity to work with anyone interested in expanding the available space of their facility, so feel free to contact us today.