Request A Quote
For more information about modular office systems and warehouse layout solutions from KABTech, or to request a quote, please contact us today.

Request A Quote
Our cost-effective modular office systems can be custom configured to suit your unique requirements. KABTech's modular buildings can be used as team rooms, administrative offices, engineering labs, shipping offices, break rooms, conference rooms, and more.
Modular Office Systems and Team Rooms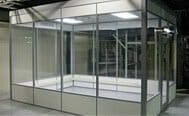 Similar to KABTech's modular in-plant offices, our modular team rooms allow for plant floor meeting areas that are quiet so your team can listen attentively. Modular office systems can be installed with minimal impact on production and provide significant cost and time savings compared to conventional construction. Additionally, our office systems can be expanded, reconfigured, and relocated as your business requirements change.
Each office is pre-assembled at our factory and shipped directly to you. Customize your office system in a variety of ways by choosing the size, surface treatment, HVAC system, roof, windows, doors, electrical system, and more. For more information on creating a modular team room, or to request a quote, please contact KABTech today. Our goal is to provide the best in quality, value, and service for our clients with advanced, cost-effective solutions for all of your workspace needs. Learn how to increase your storage capacity with steel mezzanines.