Request A Quote
For more information on KABTech modular hardwall and modular softwall clean rooms, or to request a quote, please contact us today.
Request A Quote
KABTech is a leading provider of clean room design and construction. Learn how our modular clean rooms are engineered to meet your specific requirements. Contact us today.
Clean Room Design and Construction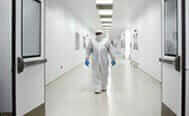 KABTech will design, engineer, and install all parts of your clean room. We bring our past experience and state-of-the-art techniques together to develop a precise solution that meets your requirements. Our customized clean rooms are rated Class 10 (ISO 4) through Class 100,000 (ISO 8). We can also provide positive pressure rooms for less demanding specifications.
Modular Hardwall Clean Rooms
Modular hardwall systems are available in FRP (fiberglass reinforced plastic), aluminum honeycomb, steel, and high pressure laminate panels to meet your specific needs
Pre-fabrication of all modular components (wall panels, doors, windows, etc.) allows for fast, waste-free, low impact construction and installation
Package options include HEPA filters (FFU), single point electrical hook-ups, HVAC, and lights
Modular Softwall Clean Rooms
Softwall clean rooms are the most cost-effective modular clean rooms
The translucent walls allow for clean room activities to be monitored without entering
T-Bar ceiling and frame alternatives install quickly and easily allowing for fast construction and hook-up for lights, HEPA filters, and electrical systems.
Additional Features and Options
Variety of wall surface materials, windows sizes, and door styles
Air locks and gowning rooms
Single pass, re-circulating plenum and ducted plenum designs
Fan powered or ducted hepa filters
Framed archways, roll-up doors and removable wall sections
Wall pass-thrus
Horizontal flow hepa filter systems
Learn more about our humidity control rooms, cold room storage solutions, and meet the lead engineer for our temperature control projects.