Modular In-Plant Office Options & Features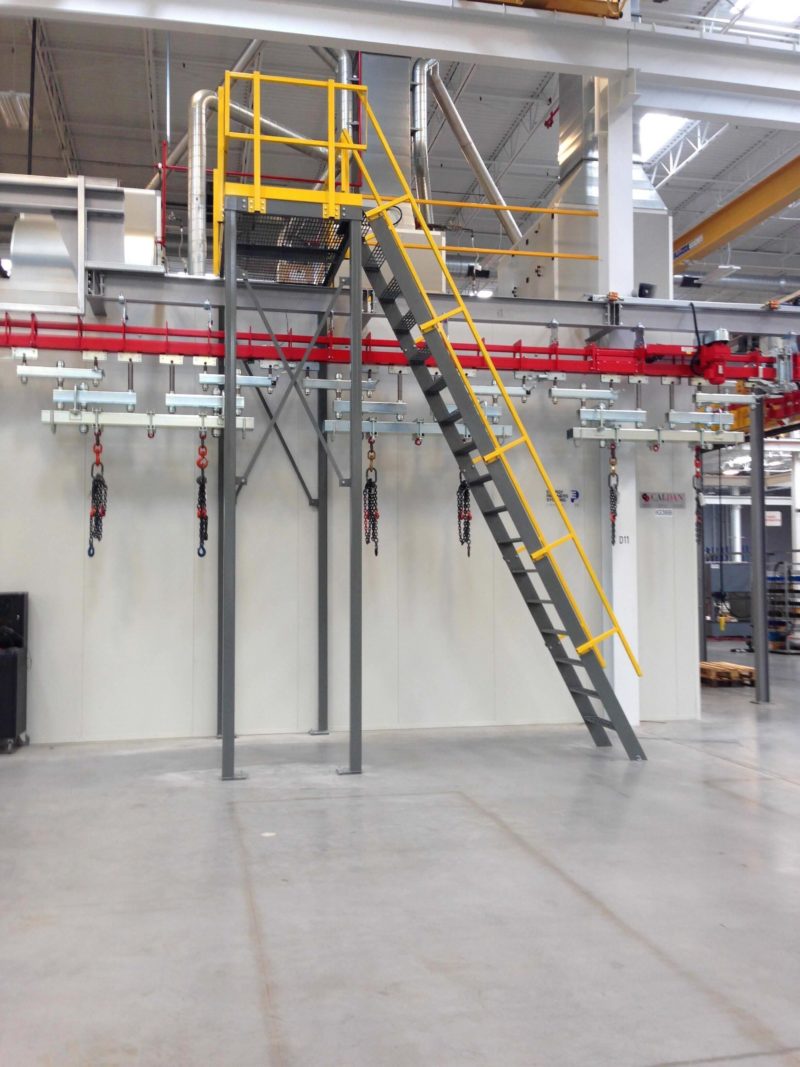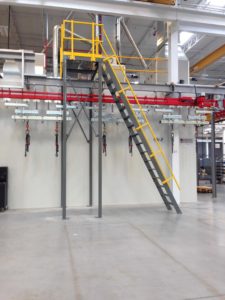 KABTech in-plant offices can be custom configured with a variety of different textures, surfaces, and colors to fit any work environment.
You can select everything from load bearing capabilities and thermal insulation values to design features such as windows, doors, noise control options, and more.
The best feature of our modular in-plant offices is that they are relocatable, and can be expanded or reused to provide long term versatility whenever a new situation arises.
KABTech Custom In-Plant Office Features Include:
Load bearing roof structure
Roll-up doors, double doors, and door closures
Custom colors
Custom height windows
Modular electrical capabilities
Custom panel surfaces and compositions
In-plant office vinyl panels come in three standard colors which include white, gray, and beige. To help match your work facility, we have custom colors available with painted gypsum or steel.
In-plant office doors and windows can also be equipped with a variety of features which include: high-speed swing doors, sliding doors, and tinted or acrylic glass. For added security, we offer bullet and blast resistant frames, along with the ability to fully integrate with security cameras, access control doors and more.
KABTech USA Offers Superior Quality & Experienced Expertise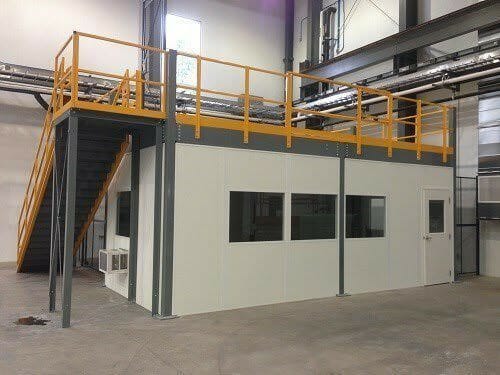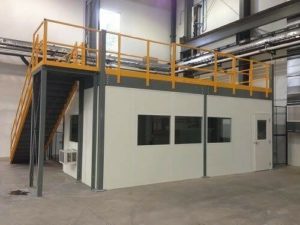 KABTech usa specializes in offering quality Inplant offices and dealer services that exceed many other nationally known material- handling companies.
We guarantee each quote and inplant order is treated with individual care and precision to assure you get the best possible service, shipping and installation methods possible.
From the start of the process, you will experience firsthand, personal service from our experienced In-plant office representatives. They will assist you with collecting and processing all the information needed to help you select the best choices for your in-plant project. This personal service is what sets KABTech apart as a leading Modular Office Supplier, providing one on one personal service to all In-plant office projects.
The process begins when you submit a request for information regarding your office project on our website. Give a simple description of the type of project you have and the approximate size of office space needed. Your request will be given to the proper KABTech representative or engineer that will contact you directly for the specific details of your office needs. They can even schedule a visit to your site if more specifics of the job are required.
Quick Ship Ordering and Delivery
Once your order is completed and the detailed technical drawings are approved, your order will be ready for manufacturing. This custom inplant office assembly process takes approximately four or five weeks. However, more complex projects can take up to six weeks. Then the inplant office, either prefabricated in whole or as an assembly package will ready for shipping.
Smaller prefabricated quick ship office units are available for immediate shipping if you choose to select an office from a standard per-assambled design office list. Usually most custom In-plant office project can be installed within approximately five to seven weeks once your order is approved and processed.
Smaller office units, shipping and receiving offices and guard booths, security shacks and pump housings measuring 8´wide and 20´ long or less, can be shipped completely assembled.
KABTech's Easy Installation Method
The unloading process will require a forklift with extended lifting forks to off load the unit and an approximate lifting capacity of 3,000 lb.
We pack larger In-plant offices, equipment enclosures, modular office partitions and warehouse dividing walls securely onto specialized shipping pallets for product safety. Included will be a inventory list, detailed drawings, Simple to follow instructions to complete the modular office installation and a list of tools you will need to make the install process as simple as possible.
Modular Offices By KABTech Offer Significant Value & Quality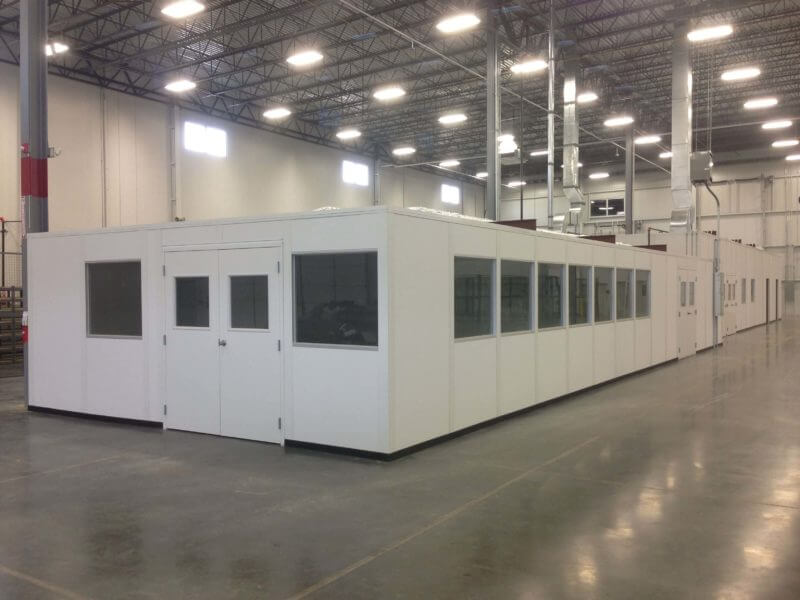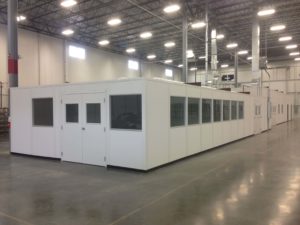 KABTech uses the highest quality products and components available to manufacture and assemble your new office.
You will also enjoy having access to our highly trained technical staff for personal service and support from construction of you inplant office, through the final assembly.
Backed by over thirty years of experience, KABTech has the know how to get it done at an economical price in a limited amount of time.
All In plant offices and modular cleanroom components are manufacture in a controlled factory environment. This ensures precision manufacturing methods and the ability to maintain the highest quality standards.
Added Value for Future Inplant Office Expansion Projects
One of the great values of Modular Inplant Offices is that as your office needs expand, so does your inplant office. These modular wall components can be easily removed and relocated, and re-positioned for your future office expansion designs with very little waste. Try that with conventional construction methods.
The flexibility of modular offices makes office changes simple and inexpensive.
Custom requests for office size and color-
KABTech offers you the ability to design you inplant office layout around the available floor space limitations such as machinery and surface equipment or other structures that will be in the vicinity of the office space you are creating. Office wall colors can be selected from the standard basic colors or choose a custom color scheme to accent your companies plant or warehouse.
Clean installation, less production disruption and down time-
All components of the modular inplant offices are pre-manufactured and come completely sized and ready to fasten together. This means very little construction mess or pre-fitting. Simple instructions guide you through the set up process and electrical hookup. In many applications, the modular office installation is fast and will not disrupt other work in progress.
Inplant offices complete with electrical system-
You can choose the way you want your office to be fitted for the electrical components. The standard package comes with a circuit breaker panel, breakers, switches and outlets. These basic components are rated for a typical office unit but any electrical components can be upgraded to your specific requirements at the time of ordering.
Standard office packages allow the wiring to be done during assemble process. However, we also offer pre-wired office packages that allow the installer to simply snap the connections together during the assembly process. This gives you a complete working system and only requires an electrician to wire in the power supply for the breaker panel.
Shipping your Inplant Office-
Your InPlant Modular Office will be carefully packed on individual shipping pallets for product safety and ease of unloading and placing in the assembly area. In the packing you will find an inventory list, detailed drawings of the office layout, a tool list for the tools required to make you installation fast and easy and step by step installation instructions that take the guess work out of the unpacking and assembly process.
Prefabricated and completely assembled modular offices can be shipped if the office size is 8'x 20' or less. Quick Ship Guard Shacks, Security Booth, Parking Lot Booths and Shelters come pre-assembled and will ship on skids or have steel channels and lifting pockets for easy handling and placement adjustments.
Pre-assembled offices and booths over 8' wide and 20' long are considered oversized shipping and will require special pricing. Unloading will require a forklift with extended length lifting forks and a minimum lifting capacity of 3,000 lbs.
Standard Modular Office Package Features Include
A choice of wall panels thicknesses of 1.75" or 3" and a choice of 8'standard height or up to 26'. Taller walls are available with special orders.

Door and window options

that you choose for your application.

Wall studs

with wire access tracking, wall starters, corner studs, floor track and ceiling caps.
Your choice of recessed

lighting options.

Your Choice of Roof decking

will include OSB, metal or plywood depending on your need for overhead load bearing weight support.
Upgrades allow for,
The roof to be supported by free spans up to 40 ' without center supports with applications that are non-load bearing.

Load bearing steel beam systems

that will give you above office storage with a load rating of 125 lbs PSF. or the ability to stack a second floor office unit above.
Modular Enclosures for Equipment, Machinery and Laser Guided Processes.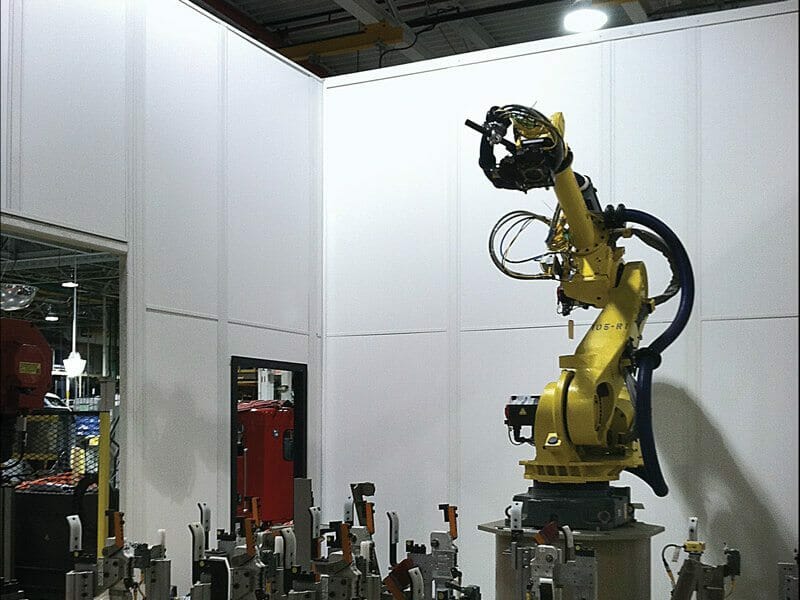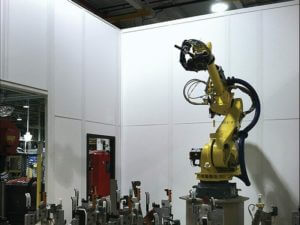 Inplant modular offices are the perfect solution for enclosing new or existing equipment without disrupting the original mounting position or disassembling.
It also gives you the ability to install the office and install equipment through the removable wall panels before completion.
Modular Enclosures for Environmental Control
The wall studs include wire tracking which provide electrical access at any location within the enclosure. The wall material choices provide durability and safety. The insulated roof paneling can also be fitted to provide extra protection of interior space with interlocking metal panels or the optional materials of your choice.
These modular environment control rooms are the perfect way to control room temperature, humidity, smoke, or production fumes, dust and noise and can be designed to be light eliminating for light sensitive processes.
Wall Partitions for Work Process Separation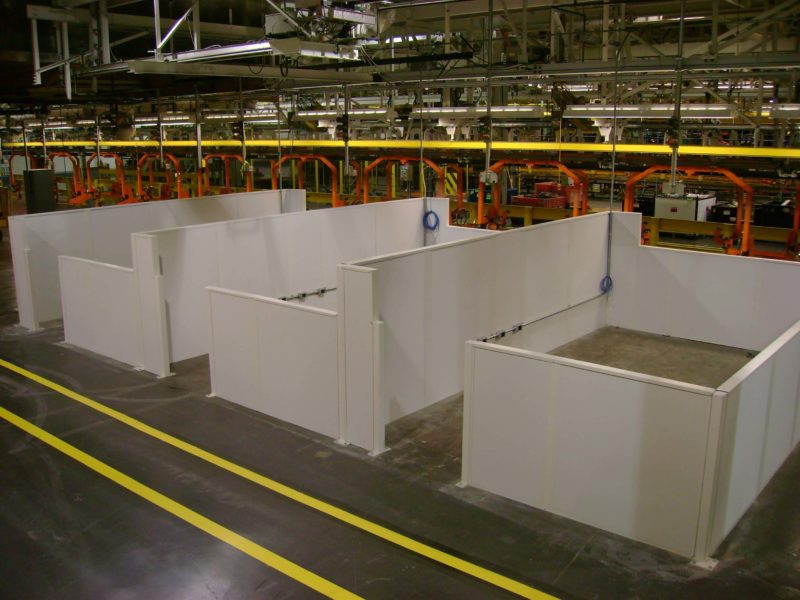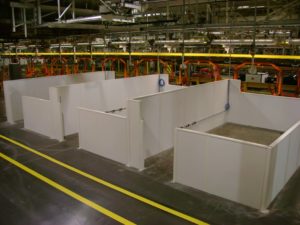 Modular office enclosure walls can be designed and installed to create a freestanding, open-air work station.
Individually separated enclosures can provide protection and limit access to vital processes while creating safe, individualized floor space perimeters.
Modular walls install quickly and offer the flexibility of easy removal and relocation without construction waste.
Increase Versatility with These Office Features & Options
Stairs, Landings & Handrails-
KABTech offers prefabricated modular stairs and safety caged ladders for second story office and mezzanine applications. Handrails and special removable gates and other components such as lifts are also available for office mezzanines
Office Flooring-
Flooring for upper level offices can consist of vinyl tile, carpeting but the main floor can be treated with any flooring material you choose. Modular office structures use the existing floor so floor treatments can be installed after office construction.
Typical Electrical Features-
Some basic electrical components are supplied and installed in the modular office units from the manufacturer.
These can include a standard circuit breaker panel rated for 125 amp. Light switches, wall outlets are also installed and any of these components can be upgraded to your required specifications. Wire tracks and conduit is incorporated for adding electrical wiring, cat cables and communication lines provided by electrical technicians on site.
Optional snap together assembly for wall panels with pre-wired lights and outlets are also available. This provides a complete electrical wiring package from the modular office breaker panel
HVAC Units-
Heating and air conditioning units that are sized to the particular square footage will have a dedicated outlet conveniently located. Requests for plenum access space is acceptable for larger office applications needing duct-work for central air units.
Modular Office Wall Studs, Posts and Supports-
The lightweight wall studs that lock the wall panels together are placed every 4', between each wall panel and house wire access tracks. These load bearing and non-load bearing supports offer wire access through removable covers and allow easy electrical modifications and the addition of communication cables and computer cad cables.
Extruded aluminum studs and corner posts provide excellent moisture resistance and versatility for future wall modifications and will easily breakdown and relocate as your office space changes.
Wall starters are used when walls will form freestanding partitions of two or three wall units. The wall starter creates the leading edge of any wall group and will securely anchor the wall.
Wall panel floor track is used to secure the walls to the existing floor and can be either 24 gauge steel or aluminum. This track supports the wall intersection studs and corners and is concealed by the wall baseboard.
A ceiling cap is used to enclose the roof material and nicely finishes the outside edge of the exposed wall.
Options for Modular Inplant Office Doors and Entrance Points-
Standard size doors are 3'x 7' and are pre-hung with all hardware included. You can choose for double or single insulated steel swing doors, track sliding doors or a number of overhead roll-up doors.
Many of the door selections can be manual or incorporated with automatic opening devices.
Windows and Glass Options-
In-plant office windows are constructed of color coordinated anodized aluminum frames and come in a variety of sizes. The standard glass is ¼" and safety tempered. The windows come as complete units and can be designed as fixed or slide-able tracks.
There are also many window treatments and glass alternatives available including poly-carbonate, acrylic, laminated , wire or glass safety glazing.
Roof Decking-
The office roof material is a combination of 22 gauge corrugated steel covered with your choice of Plywood or OSB. Other roofing material is available at your request.
Modular Office Stud Cross-Section
Steel Construction Cross-section
Advantages of steel modular studs
More economical than aluminum
Color matched to wall finishes
Accessible wire channels
Designed for load requirements
Versatile Steel System 1,75 SP
1¾˝ 16 Ga.  Steel With Wiring Studs
Advantages of 16Ga. Galvanized
More economical than aluminum
Galvanized steel
Accessible wire channels
Designed for load requirements
Load bearing for 2 story applications
Standard Steel System 3SP-20
with 3˝ 20 Gauge Steel Wiring Studs
Advantages of 20 Ga. Studs
Single story, non load-bearing
Offers a thicker wall for insulation and other deep wall needs
Heavy-Duty Steel System 3SP-16
with 3˝ 16 Gauge Steel Wiring Studs
Advantages of 16 Ga. Studs
Heavy duty load bearing walls
Carries heavier loads for two story applications
Enables larger free span without extra supports.
Non-load bearing applications can have a clear span of 40'
Aluminum Modular Office Studs
Advantages of Aluminum Modular studs
Moisture resistant
Clean finish for controlled environments
Acceptable for FDA regulated food processing
High thermal value
Light-Weight Aluminum System 1.75 AP
with 1¾˝ Anodized Aluminum Wiring Studs
Advantages of standard aluminum studs
Economical and eco-friendly
Single story, non load bearing application
Acceptable in wash down applications
Easy wire access with snap plate covers
All-Purpose Aluminum System 3AP
with 3˝ Anodized Aluminum Wiring Studs
Advantages of 3" aluminum studs
Load bearing for second floor applications
Easy wire access with snap plate covers
Carries larger free spans without additional supports
Modular Office Wall Panels
The wall panels that are used in modular office construction are constructed of 1.75" or 3" walls, depending on the requirements of the application.
A typical wall has three sections.
An inner wall (choice of material options)
An inner core (Polystyrene core) Insulator
An otter wall (choice of material options
Painted Gypsum Wall Panels  NC, 3˝ & 1¾˝
excellent noise control
non-combustible with a class 1 fire rating
superior insulation qualities
select from several basic colors (White, Gray, Beige)
choose a custom color for your application
Custom Paint Color or Standard Neutral Colors: White, Gray, Beige
Vinyl Faced Gypsum Wall Panels  NC, 3˝ & 1¾˝
additional 6 mil vinyl covering
more noise control
vinyl covering adds a durable and cleanable surface
Steel Faced Wall Panels  NC, 3˝ & 1¾˝
steel surface option provides safety when enclosing hazardous equipment
steel is laminated over a sound blocking panel core
core upgrades to Aluminum Honeycomb Panels if required
Fiberglass Reinforced Plastic (FRP) Faced Wall Panels  NC, 3˝ & 1¾˝
low maintenance and economical solution
FRP can be laminated over gypsum or directly to the foam core
excellent choice to handle tough environments
Hardboard Wall Panels  3˝ & 1¾˝
Most economical solution
6 mil vinyl available in both 1¾˝ and 3˝ wall panels
Available in basic colors (White, Gray, Beige)
Cement Board Wall Panels  3˝
extremely durable and weather resistant
designed for outdoor buildings
handles sun exposure and varying temperatures
holds up to heave rain conditions
available in basic colors or can be custom painted