KABTech can develop a low-maintenance and cost-effective solution that encloses areas to keep machinery noise in or out as needed.
Fast and Economical Solutions for Modular Noise Enclosures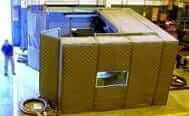 KABTech has a variety of noise enclosure solutions which are a cost-effective way to control dangerous sound levels and solve loud and excessive noise problems in your manufacturing facility.
Sound enclosures are needed for a variety of applications, including sound booths, control rooms, factory offices, manufacturing plant offices and more.
KABTech designs enclosures that are ideal for reducing dangerous noise levels and creating a safe working environment for machinery operators, technicians, and other employees the work in noisy environments.
All enclosures are durable and will stand up to rough industrial work environments for years.
KABTech noise enclosures can be designed from pre-manufactured modular rooms, outdoor noise barriers, modular panels, or noise control curtains and flexible blankets. They install quickly and help block sound transmissions and vibrations.
Noise enclosures can be customized with features such as:
Full vision sound reducing windows.
Roll-away doors for clear floor access.
Multiple in-line equipment enclosures.
Access ports for material supply lines and machinery.
Our experienced team will work with you to determine which noise enclosure is right for your business. Learn more about our industrial noise control solutions, sound absorption panels, and read our noise control system case study.
Many of our customers are interested in industrial noise control for modular in-plant offices, raised mezzanines, clean rooms, and quality control rooms.
See all the industrial modification products offered by KABTech. Save downtime and project cost by using modular offices, outbuildings and industrial platforms. Contact KABTech for information and up to date pricing available.